Newport 30 News
Dates, Information, and Lore from the N- 30 Association
Winter 2003
!! ATTENTION !! !! ATTENTION !! !! ATTENTION !!
NEWPORT 30 BANQUET ON NOVEMBER 15th 6:30pm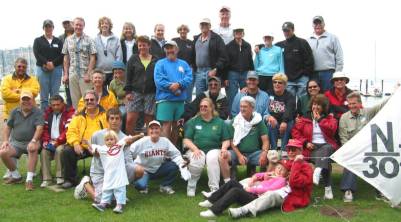 Angel Island Cruise, October 4, 2003
An invitation from your Commodore
The recently completed Newport 30 cruise was an overwhelming success. It was great to see so many new and familiar faces out on the water enjoying their Newport 30's. Riding high on this wave of camaraderie, it is my pleasure to invite all Newport 30 owners, family, crew, and friends of our fleet to the "Year End Celebration and Banquet". We have an exceptionally attractive venue this year to hold our N-30 party, one of Point Richmond's most cutting-edge dinning establishments. Many of you will remember from years past, the landmark in our Bay Area neighborhood known as POINT ORIENT. Like last year's varnish, that old restaurant has faded away to nothing more than a distant memory. It has been completely remodeled and reopened about a year ago under the name of Suzhou (pronounced Sue-Joe). The new owners, Murray and Lucy, have given me their personal word that no one in our fleet will leave disappointed. Please take note of the date, time, and details, for this is one dinner party that you won't want to miss.
* * *
NEW
PORT
30
Year End Fleet Banquet
SUZHOU Restaurant
199
Park Place, Point Richmond
SATURDAY, NOVEMBER 15th 2003
6:30 No-Host Bar
7:00 Dinner & Awards-Raffle
$15 Per Person (Includes: Raffle Ticket)
N-30 Banquet Menu
Appetizers:
Canton Style Egg Roles
Hunan B.B.Q. Pork Ribs
Sushi:
Ebi Roll (Shrimp)
California Roll
Entrees:
**House Specialty Honey Walnut Prawns**
Home made Spiced Chicken
Black Pepper Beef
Dry Cooked String Beans
Steamed Rice
Please try to RSVP by November 8th
Call or leave a message:
Gary Boell (510)237-7600 or
This November 15th gathering is also an excellent opportunity to expose future sailors, friends, and potential crew to the Newport 30 Association. We are in desperate need of your input to help us shape our organization. Our goals for the 2004 Year are to provide:
Increased Communication & Support between all boat owners

A minimum of two organized overnight Newport 30 Cruises (to exotic ports : Napa, Stockton, Benicia, as examples)

Sailing, Boat Handling, and Maintenance Education for N-30ís

Guidance and support for those desiring to race their boat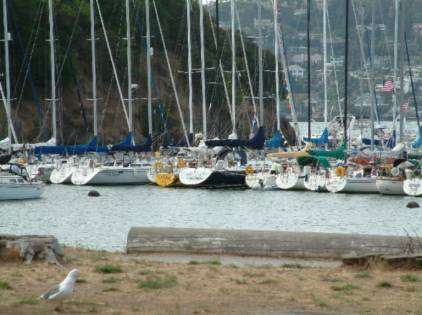 Angel Island Cruise, October 4, 2003
Angel Island, October 4th, 2003
On Saturday, October 4th, 13 Newport 30s gathered in Ayala Cove for a fantastic feast on Angel Island. Alphabetically: ALOHA, FAST FREIGHT, GREAT ESCAPE, HARRY, MANAWAHUI, MUTUAL FUN, RUCKUS, SEAWALKER, TALISMAN II, WAHOPE II, YACHYD DA, ZARPA, and ZEEHOND, each arrived with fun-loving crew to enjoy beautiful weather, exceptionally fantastic food & wine, and the best of company.
Our Commodore, Gary Boell, left ZEEHOND moored in the cove on Wednesday, to insure the very best raft location for our Fleet. Commuting between his home in Pt. Richmond, Angel Island, and ZEEHOND, he brought a gas bar-b-que and more food than 70 hungry sailors could consume. Andy Fromm generously opened his floating wine cellar for the Fleet's enjoyment.
Gary & Megan (ZEEHOND) handled non-stop food, while some of the "sportsmen" organized a Bocce tournament. Bob McGowen (ALOHA) performed yeoman duties with an inflatable shore-boat. SEAWALKER introduced us to its new parent, Stephen Scherr. HARRY, one of the last Newports to arrive, brought a crew of 13. Frank & Joanne Navarro arrived with friends on MUTUAL FUN, but Anthony and his girlfriend arrived on the Ferry. Paul & Lynn Von Wiedenfield brought their own party aboard RUCKUS. I don't think they ever miss a Newport 30 event. Lance Elberling & Marylou Clarke arrived on TALISMAN II. They keep their boat immaculate. Tyron David, a new Parent of MANAWAHUI, arrived at Angel Island in his dinghy. It was nice to meet him, and he was a door prize winner. Jack Gill arrived very late, having a scheduling conflict for YACHYD DA. Bob Harford (FAST FREIGHT) is starting to plan the sequel cruise to Petaluma for next spring.